Stock Lollipop vs Samsung TouchWiz vs HTC Sense vs LG UI
expand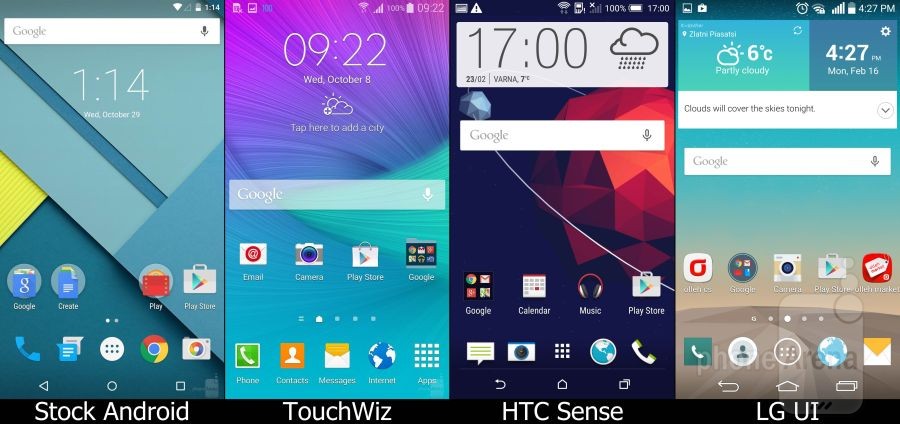 Opinion:
Sean Stockemer
so this seems like as good a place as any, to express my wishes (the other candidate, for this comment would be one of the rumor mill articles)...on behalf of all techies, nerds and freaks, I hope all of the major manufacturers read this...Sony, HTC, Samsung, LG, Motorola this is for you.
what we, the consumers, would really like to see (when I can speak on behalf of millions) is a device that doesn't make compromises. ok, maybe I should speak in the first person.
I'd fall all over myself, throwing money at a device that has the best of what each company does. so, I'd give my right arm, to be able to have access to a device that is the apex in all aspects (at the split second of release of course). Camera. Speakers. Sound quality. UI. Professor. RAM. GPU. Accessories.
my Christmas wish is a co-operation, of r&d, and manufacturing, between major manufacturers.
a phone with a Sony camera (with OIS and digital...and optical zoom). HTC speakers, boom. LG, you're in charge of the screen (UHD implied). Samsung...Accessories, UI and bloatware (but not too much), yeah touchwiz sucks, but it's mostly attractive. Oh, and Sony- I dig the noise canceling earbuds for the Z series we need that. Sony's button placement is radical but amazingly intuitive, get that in there too. I want a wicked fast processor, 64bit, of course, and a sic GPU. USB3 (or 4, dang it). I want 128gb of device storage, if you can't cram a tb into it. a removable battery. micro sd expansion support. 
ideally, this whole setup would be configurable, so if somebody likes the hardware buttons from LG better, they could opt for it. or another manufacturer's UI...hell, ideal is stock. an unlocked bootloader and root should also be on-board. and let's get the thickness down to like 7mm (or less, as long as I'm wishing). metal unibody design, something that doesn't collect fingerprints like pokemon cards. and Motorola, give me interchangeable back plates with leather, pigskin, and carbon fiber in the box. wireless charging, and a docking station in the box. raise your hand if you are able to put an IR blaster in it. B-) Samsung- the new and improved s-pen. good. and that, friends, is how Android could beat crApple.
yes...a tall order. But I believe in you major manufacturers, and the powers of transparency and a capitalistic consumer world that will make you money!
I'm tired of compromises. I love my Z3, but it's just the best fit. I want the best device I can imagine. and I can imagine a lot.
Oh, and next...I'll wish myself a tablet and a smartwatch (bring on more wearables!) to match.
---
Published by
Owee
, 24.02.2015 at 23:35