Most of Lumia smartphones will be updated Windows 10
expand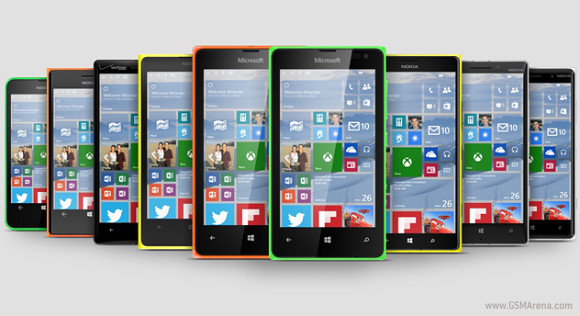 After the Redmond giant has presented most of the new features that Windows 10 brings the company is not so sure that all models will be updated.
Microsoft mentions some of the latest Lumias, which certainly will be updated on Windows 10 (as the Nokia Lumia 930, Nokia Lumia 735, or Microsoft Lumia 435), it is not so clear when it comes to devices released a couple of years ago, Lumia 620 or Lumia 520. I hope we will soon exhaustive list of WP phones that Windows 10 is ready.
Views:
Bilzkh
It might not be a bad idea for Microsoft to divide its Windows Phone line into two lines: Lumia and something else to identify the low and very low-end. The Lumia 5xx, 4xx, 3xx, etc should belong to the latter, whereas the mid-range and up should belong to Lumia. 
Traderhorn
have been through windows phone 7 letdown, if Microsoft do it again over Windows 10 not coming to some 8.0/8.1 phones there are other choices and they deserve to loose customers. 
Cripton806
Where are all the MS fanboys coming to defend the Lumias having only 512mb of ram? I said it and said it again that as soon as they started getting features to compete with Android and Apple, that they would need more. But time and time again they came to their defense. 
---
Published by
Owee
, 23.01.2015 at 17:29
Понравился наш сайт? Присоединяйтесь или подпишитесь (на почту будут приходить уведомления о новых темах) на наш канал в МирТесен!
1
Показы:

1
Охват:

0
Прочтений:

0
---